New to the Meetings & Events business? Or just new to the idea of a booking engine for your meeting rooms and event spaces.
Whatever the case, we're here to make things a little clearer. So, here are the basics to finding the perfect online Meetings & Events booking system for your venue.

What is a Meetings & Events Booking Engine?
Basically Meetings & Events booking engine works like your accommodation booking engine. You can sell services with dynamic pricing, online availability, and with credit card payment. Meetings & Events Booking Engine is a software application that you can place to your website as a link to your main navigation menu, to your call-to-action buttons, e.g. "book meeting rooms", and you can implement iFrame or script based widget to your website for your website visitors to easily make a search of your meeting rooms.
A meeting booking engine is a software application that plugs into your website and allows you to take online bookings securely through your own website.
Here is an example of a meetings & events booking engine page.

What is a booking engine widget?
A meetings & events booking engine widget is a pice of code, script or iFrame depending on your needs, that you can implement to your website easily by copy + paste from MeetingPackage product suite. It allows your customer to easily make a search to your meeting room and event space services. From below you can see an example and by clicking the image you can test the widget yourself.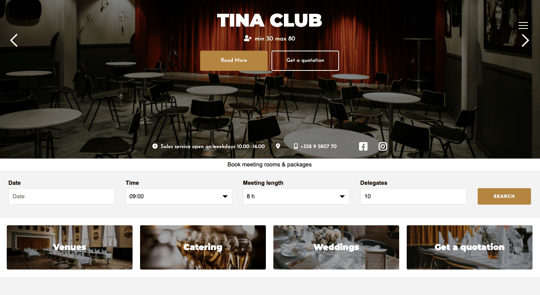 Place the widget in a prominent place under your Meetings & Events section on your website so your potential customers and website visitors can easily notice the widget and realise that they can search meeting rooms and event spaces according their needs.
How does a Meetings & Events Booking Engine work?
A Meetings & Events Booking Engine hooks up to your website if you already have one.
Guests enter their details on your website in order to securely book a meeting room and (if integrated with a property management system) the booking software synchronises the booking information with your back end system so that you can manage the meeting bookings and RFP's from one centralised place and erase the risks of "double bookings". This enables seamless user experience for all stakeholders involved. For the venues the best part is that increases your conversion.
All this is easily incorporated into your website for you so you can start taking bookings online.
Or, if you're already happy with your Meetings & Events website, you can utilise the MeetingPackage Booking Engine capabilities to turn your labour intensive RFP process to an online sales format by showing prices, online availability, and online payment possibility by utilising MeetingPackage API. And that's how a M&E booking engine works!
Do you need a meeting room booking engine?
The simple answer is yes. You need a booking engine nowadays. These days everything in Hospitality sector should be bookable online, Meetings & Events is no exception. Shamefully, truly online bookable meeting rooms, especially in venues like hotels, are still a rarity. Even though, numerous studies have shown that that's what guests want. If you only take meeting bookings via the telephone or email then you're cutting yourself off from a huge chunk of business and the loss of business just keeps on growing day-by-day as your competitors are getting online.
All this new tech avoids the need to manually re-record booking details in your function diary. Which isn't as reliable and is a lot more time-consuming than a proper booking engine. Also, manual work required from your customer does not really give good experience. More manual actions from the customer means less likely to get a returning customer.
What are the benefits of using a meeting room booking engine?
There are plenty of benefits to choose from but take a closer look at some of the benefits listed below.
Online Sales: With M&E booking engine you can sell your services online like you sell accommodation.
Availability: Show real-time availability of your meeting rooms and event spaces and diminish significantly your eRFP -spam. In this day and age, your customers should be able to see if the meeting rooms is available for the required date & time.
Conversion: Your conversion levels will grew to the same level that you have with direct accommodation bookings. This makes common sense, as the customer can see service offering, pricing, and availability it will reduce unnecessary questions around the booking like "is the meeting room available on the 4th of August.."
Time savings: When you can get rid of those annoying RFP attachments that often need to be amended because "Lauren can't make it" or "Simon has an allergy towards XYZ" it creates better use experience for your customers already at the sales phase and save a lot of time from all stakeholders involved. This means that your staff can actually focus on tasks that matter the most.
Flexible pricing: With transparent and flexible pricing of your meeting & events services you can boost your revenue management operations from the M&E sector by e.g. offering seasonal pricing, dynamic pricing according occupancy ratio or meeting type, corporate negotiated rates, and event "early bird" offers where you can lower the price but manage revenue risk with strict terms & conditions.
Online payment: Let your customer pay at the booking stage. This is especially handy for smaller meetings and this enables you to utilise promotion tactics to get more customers. Just like you would use pricing for hotel rooms as a marketing tactic.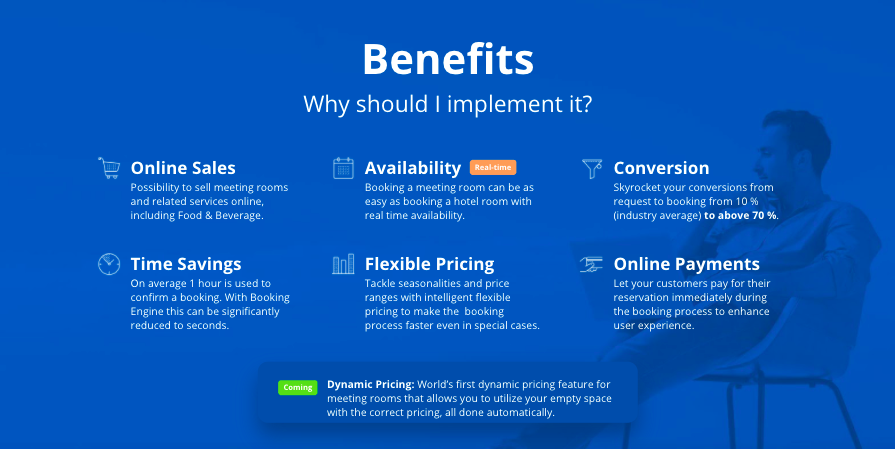 Fill more rooms with more direct bookings
It goes without saying that having a meeting room booking engine on your venue's website will increase your meeting room or event space occupancy rate. It also increases the percentage of your direct bookings.
This is because guests can book instantly and are less likely to book elsewhere or through a Travel Agency.
Direct bookings are a huge bonus for venues because they are commission-free and there's no need to pay a portion of your hard-earned cash to a travel agent or any other in-direct channel partner. Especially, you local market meeting bookers will significantly benefit from the possibility to book meeting rooms quickly through your website.
Global distribution
Additional benefit is that while you create your venue profile to perfection on your own website you can utilise the same profile in thousands of different distribution channels without doing any extra work. Any booking through channels like CWT Easy Meetings, etc. is just a nice addition to your booking volumes. Who knows, if you can even turn the meeting booker to your loyal direct customer.
Safe & secure
With integrated Stripe payment software, you're able to take payments simply and securely from guests. There's no need to wait until your guests arrive to take payment! Taking payment upfront also lowers the risk of potential no-shows and cancellations.
Bookable 24/7
For overseas visitors in different time zones – and night owls – this is especially important. You want the booking process to be as easy as possible for customers, and having an automated, online booking system allows you to take reservations while you're asleep or otherwise occupied.
Business KPI's and analytics
The best meeting room booking engines for venues will provide robust meeting room related statistics in easy-to-digest reports. If you're able to interpret these and adapt to your customers' behaviours, you'll be able to tweak your booking process to minimise the chances of potential guests being put off and maximise the revenue. As the saying goes "what you can't measure, you can't manage" or something along those lines.
Widen your marketing possibilities
When you can track your meeting bookings from the very first ad click until to the actual event date and capture all the data relevant to the meeting you're in good position to do measurable marketing activities. And what's more, now that you can measure your marketing you can tweak your ROAS to be more efficient.
Maximise control over your business
If you can turn your revenue streams more towards direct bookings you have more leverage over the in-direct partnerships when negotiating contract renewals, etc. At least they can't treat you as a push-over if your bookings volumes are not solely dependent on a particular channel partner.
How to build your meeting room booking engine to your website?
Fortunately, you don't need to know how to build one for your website as that's what a meeting room booking engine provider is for! They do all the hard work connecting your website with the meeting room booking engine, merchant payment accounts and integrate your property management system (Hotel PMS) if you have one. Also, it's easy to start. Just create your venue profile in MeetingPackage and follow the in-app guidance. Once your venue profile is up it's very easy to setup your own booking engine without any external help.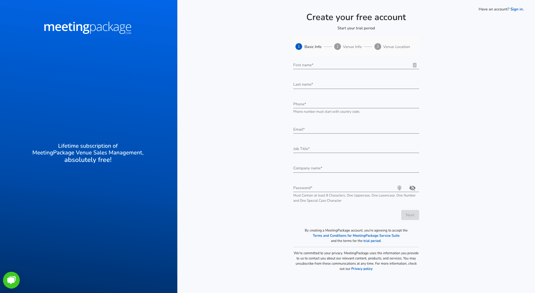 Of course, you can build your own booking engine but
it will cost a lot of money, effort, sweat, and tears as the initial development costs.
Once you think you're done with your new shiny meeting room booking engine you find bugs and additional features that would need to be developed. This adds more frustration and costs to your project.
Whereas, services providers that solely focus on this and offering their software-as-a-service you get all the updates automatically to your advantage.
How much does an online meeting room booking engine cost?
The truth is: it varies. Booking engines can range in price but most are charged per room. Therefore, the larger your property, the more you pay.
In summary, a Meetings & Events booking engine is a necessity for venues who want to make it in the world of online booking.
If you're looking for a booking engine for your meeting rooms and event spaces, have a look at what MeetingPackage can offer for you. Or simply start your journey by registering your venue to MeetingPackage and implementing your own booking engine from the button below.