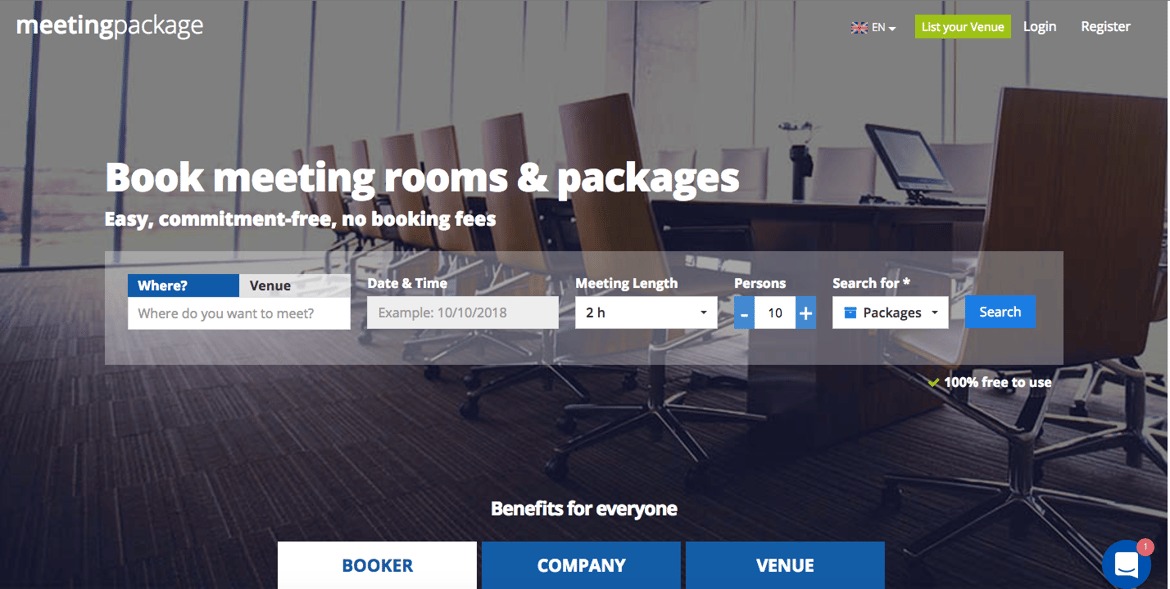 MeetingPackage.com, the global Meetings & Events software provider for booking off-site meetings & events, announces that it will enable, as the first in the world, direct integration to Oracle's Opera Sales & Catering.
Oracle's system is widely used by hotels around the world. The first hotels have already started the integration process, and the users of MeetingPackage.com can soon book their offsite meeting spaces directly online with transparent pricing and availability.
Helsinki, 10th of August 2017
"We are really proud and enthusiastic about finalizing the integration with Oracle's Opera Sales & Catering, a process that we already started years ago. We strongly believe the meeting booking market is moving towards greater transparency and less friction in customer transactions. In other words, the availability of meeting spaces will be 'genuinely online'. This development is beautifully in line with our own vision for 2020, when we believe the majority of meeting room bookings will be made through the venues directly", says Joonas Ahola, CEO and Founder of MeetingPackage.com. "Plus, quite frankly, it's pretty cool that a Finnish startup company achieves this ahead of the established global booking platforms", Ahola smiles.
A sought-after solution by both independent and chain hotels
"We are continuously exploring new ways to boost our revenues. Our guests and meeting bookers are online but as an industry we haven´t been able to offer the option of booking meetings and events online and in real time. We are happy to hear that MeetingPackage.com have been able to develop that functionality and we are eager to further explore this opportunity with them", says Christian Borg, Commercial Director at Scandic Hotels Finland.
"MeetingPackage.com has proven to be among the most advanced solutions when it comes to meeting room bookings. This is great news for the industry and truly a win-win for both the guests and hotels to make meeting room bookings more faster and easier", says Markus Veikkolainen, Revenue and Distribution Manager at Primehotels
White label option for travel market players
MeetingPackage.com also offers its platform as a white label product for the online players in the travel market to help their customers to book meeting rooms online. Convention Bureaus, TMCs and blog websites have already implemented this solution. Carlson Wagonlit Travel is one of the TMCs using the technology provided by MeetingPackage.com in the Nordics and Italy to offer their customers the possibility to book meeting rooms online. Hotels themselves can also utilize the new integration by implementing the white label booking engine on their own website.
"We have been partnering with MeetingPackage.com both through the marketplace and recently also by implementing the white label booking engine on our own website. An independent hotel like us must work hard to find new ways to offer our customers state-of-the art services and solutions. We want to differentiate with our service offering, including the latest digital solutions", says Päivi Laine, CEO at Hotel Haaga Central Park.
Media contact
Joonas Ahola, CEO & Founder, MeetingPackage
Tel +358 50 514 3542
[email protected]

MeetingPackage.com is a Finnish startup company established in 2014. MeetingPackage.com provides companies a single platform for searching, booking and managing meeting rooms and the related service packages. Currently, over 250,000 meeting rooms are available through MeetingPackage.com around the world. The site features ten different language versions.About MeetingPackage.com
The CEO of MeetingPackage.com is Joonas Ahola, and the company has offices in Espoo, Finland, London, UK and Monza, Italy.