Joonas Ahola
Feb 18, 2021
We have seen first hand how heavily COVID-19 has hit the hospitality industry. Our partners and suppliers are all struggling due to meetings being restricted and travel being mostly banned. Cancellation volumes have outpaced booking numbers. On a personal level, it's been upsetting to witness this, but at the same time, it's been a great time to ask questions about our mission, about the very existence of our business and about the value we need to be bringing to the market.
The COVID-19 coronavirus has gutted company revenues more severely than World War II, 9/11, or any other historic crisis", says Arne Sorenson, CEO of Marriott International.
As many readers will know, Meetings, Events and Group bookings has always tended to be done through a traditional RFP/Enquiry and human/offline process. This means that the sales are fully driven by sales people working at the hotel or venue level. Many companies in the hospitality industry have been obliged to furlough large parts of their workforce to be able survive this crisis and to be in rude physical and economic health once the industry returns. The impact has not only been on hotels and venues but also on the supplier ecosystem, including businesses like our own. It is needless to say that sales people can't really sell hospitality technology if our client's venues have skeleton workforces or have completely closed.
Crying doesn't help. Business models need to adapt and innovation needs to happen. We are all in this together!
At the beginning of the crisis our management team sat down together (virtually, not physically!) and started to think about how we could really bring value and support the industry during and after COVID-19.
This is what we came up with:


Problem 1: Hotels are closed and staff are not working or laid-off
In practical terms, this means that hotels cannot create offers for their clients or drive any new sales. Many corporate clients are still planning events for Autumn 2020 or even for 2021. Below, we created a graph to demonstrate our view on how hotels and venues that offer online booking for M&E as part of their service offering are competing with venues that don't offer any online booking options and take enquiries only through the traditional RFP/enquiry format.
1. Venues and hotels offering online booking possibilities can still communicate their offer and availability to clients as well as sell for future dates. RFP/enquiry based hotels and venues can only start capturing business effectively once salespeople return to work.

2. If the 'events held' line is on the floor due to the present crisis, people are still looking and booking for the future. Online booking gives the possibility of getting business on the books. There is normally a significant lead time on meetings sales (30-60 days on average for small meetings), so venues are compromising their ability to bounce back their revenues if they can't start selling or transacting until furloughed staff are back at work.

3. In times of Covid, cancellation policies need to be considered. The more favourable your terms for clients, the more confidence clients will have to pre-book future events online. Think about what's better for your business, a) getting business on your books through automation and distribution while possibly getting some cancellations that will in case be managed through an automated online process, or b) not getting any sales and charging any existing clients a standard cancellation fee? Think about this question another way. As a customer, which venue would you book? The worst of all situations is that your venue has swingeing cancellation terms for the customer and fail to offer an easy online booking and cancellation process.

4. Our empirical evidence suggests that remote working organisations require more deliberate consideration of physical meetings. Our assumption is that the 'new normal' for many organisations will include many more ad-hoc bookings for smaller meetings and events. Home-working culture will accelerate and companies will be challenged by traditional notions of large office spaces with internal meeting facilities in the major cities. If a customer wants to have a meeting for five people tomorrow, do you think they will fill in a request form and wait hours for a response (typically it takes more than 24 hours to get a response from venues to meetings enquiries) or, will they choose a hotel or venue that can be booked instantly online?

Venues that offer online booking will see gains over competition that only offers a RFP/enquiry based booking process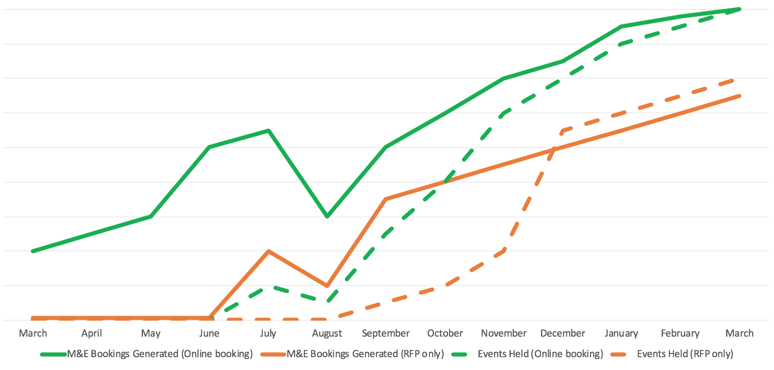 This is just a projection of how we believe the industry will recover and how online booking will play a more important role in the future.
Solution 1: Enable online sales channels with instant booking
We have seen great examples from our current customers using our technology to automate their current sales process. They have been able to cope with the current crisis while still offering customers the possibility of booking meetings and events into the future. Some customers have also utilised our technology by offering their sleeping rooms as co-working spaces and selling them through their M&E Booking Engine provided by MeetingPackage. Vessel Meetings & Events is a really good example of this.
We have seen many hotels and hotel chains waking up and understanding that their current processes are purely manual and out of date.
The need for automation is now larger than ever.
Below is a small list of what our technology allows our customers to achieve:

Showcase their service offering digitally and allows the customer to book instantly or send RFPs depending on the venue's configuration
Block dates and times from the diary when they can't sell their M&E services.
Create automation and rules on how and when rooms can be sold instantly. For example if the current limitation for gatherings is for 20 people, venues can insert 20 as the maximum capacity and the software automatically restricts the customer to booking spaces with a maximum of 20 people.
Decide on the default attendee number that is in their booking engine widget or the actual booking engine page
Create corporate codes, discounted rates or seasonal rates to incentivise client meetings in certain time windows (low-demand or otherwise)
Collect payments from customers at the time of booking
Create cancelation policies with automated refunds to customers
Get the venue's health, safety and hygiene policy up-front and centre in the online process to ensure booker confidence in the venue
Problem 2: Hotels and venues have lost significant revenues and can't afford to invest in technology
It's not easy being in the shoes of a hotelier or venue operator where for several months of 2020 perhaps up to 100% of usual revenues have been lost. Hospitality is a perishable product - we can't sell today, tomorrow. Even with layoffs venues have fixed costs that need to be met. The first thing on your mind might not be how to invest in technology even if you believe in the value it will bring in the future.
We have seen that many hoteliers and hotel chains are experiencing the challenge described above in 'Problem 1'. They would love to solve it but don't have the budget bandwith to do it now. This feeling might be exacerbated by uncertainty over when the market will recover or whether process digitisation is right for your venue.
Solution 2: Allow free access to and use of the MeetingPackage suite of products
This week we have launched a full self-service model of our product suite that can be used by hotels and venues for FREE. We wanted to take away any cost barriers there might be for hotels and venues to implement the best technology solution in the market for automating M&E sales. I am as excited about this initiative as I was in the days when we launched MeetingPackage. I am a big believer that the best products are the products that can create value and solve real world problems.
Both our Basic Distribution solution and our Basic Booking Engine solution will only start to become chargeable once an hotel or venue has already received business that covers the cost of the solution. We also decided to throw in our basic Venue & Sales management solution. This makes integrating MeetingPackage at your venue a risk-free proposition. What's included in all of our product modules can be seen below 👇.
Just to be clear, I would encourage everyone to invest in new technology where possible. If ever the time was right, it's now. While Covid has been a negative, if there is a silver lining, it's in the time afforded to think about the future of our businesses - now is a great time to review costs, prepare for the future and update as much as possible of any existing legacy solutions, distribution channels and infrastructure. In short to focus on technology that can create automation, further digitalisation, cost savings and enhancements to the customer experience in an era where digitisation is clients' preference and expectation.
PS. Once you have registered to the solution you can also help yourself and help us to help the industry! Share the offer in your network with the referral code we'll provide and for any new venues signing up with your referral code, both venues will get an additional free booking through our platform. Terms and conditions apply. Referrals within the same group, company or brand are not included.


Venue & Sales Management Solution
Venue content / CMS (location, taxonomies, images, 360-images, videos, descriptions)
Meeting Room content / CMS (images, 360-images, equipment, dimensions, seating orders, capacities, descriptions)
Multi-lingual content management (+12 languages)
Pricing management of meeting rooms (hourly, half-day, full-day, seasonal rates by weekday)
Terms of use and cancelation policy (enquiries and instant bookings)
F&B pricing and management (Menu's and menu items)
Miscellaneous and additional services pricing and management
Availability management (business rules of DEF/INQ bookings, time block, dependencies)
Inbox & order/offer Management
Customer management
Corporate codes and pricing
Real-time statistics/analytics (revenue, KPIs, operations, cancelations)
User management
Multi-property management
ICS-integeration (Google Calendar)
XML/CSV exports
Stripe payment gateway

Web proposals and offline orders

PMS/S&C integrations with existing integrations (Part of professional subscription)

Smartspace by IDeaS integration (Part of professional subscription)

Training and dedicated key account manager (Part of professional subscription)

Custom integrations (Part of enterprise subscription)

Custom business rules (Part of enterprise subscription)
Booking Engine Solution
All features of current Venue & Sales Management subscription
Enquiry, booking request and instant booking possibility
Header & footer brand colouring + logo
Booking widget as snippet or iFrame (vertical/horizontal)
Included pages: venue, checkout, thank you enquiry, thank you definite, login, inbox, order management, error
Group bedroom request functionality
Branded system emails
Online payments
Customer login
Branded customer portal to manage bookings/enquiries
URL structure of venuename.meetingpackage.com
Uptime of 99%

Custom domain (Part of professional subscription)

Enhanced E-commerce settings and measurement protocols (Part of professional subscription)

Custom automated email templates (Part of professional subscription)

Multi property booking engine snippet or iFrame (Part of professional subscription)

Uptime 99.5% (Part of professional subscription)

Training and dedicated key account manager (Part of professional subscription)

Custom User Interface (all pages of basic) (Part of enterprise subscription)

New pages: search page (Part of enterprise subscription)

Custom business rules & parameters (Part of enterprise subscription)

Uptime 99.9% (Part of enterprise subscription)
Distribution & channel management Solution
All features of current Venue & Sales Management subscription
Visibility to all connected non-subscription based distribution channels (CWT, Advantage Meetings & Events, ITP travel and + 300 others)
10% commission
Commission collection & reporting

Different terms & pricing per distribution channel (Part of professional subscription)

Black listing of channels (Part of professional subscription)

Pricing and conversion optimisation (Part of enterprise subscription)

Custom contracts with distribution partners (Part of enterprise subscription)
Black = Basic subscription
Green = Professional subscription
Orange = Enterprise subscription
The above offer is only valid for products part of the Basic Subscription.
All basic subscription functionalities are part of the professional tier. All professional tier functionalities are part of the enterprise tier.
* Pricing to be published in the coming weeks within our software when you login as a venue. Once you register you will also get the pricing delivered. No commitments. Feel free to reach out to us if you have any questions. Happy to help!
- - - - - - - -
Joonas Ahola
CEO / MeetingPackage